---
Property Guardian

PO Box 1293
Salem, UT 84653

Ph: (801) 921-7422
Fax: (801) 851-1301



info@utahguardian.com
Property Guardian was formed 10 years ago, due to a series of positive and negative business events that occurred in my life. A handyman and remodeler by trade, I started out running my own one-man-band contracting business. I created a budget, spent money on advertising and hours bidding and searching for leads on different projects. Once I got a job, it was great to be working and making money, however once the project was over, I had to start all over again with these important but non-income producing activities. I tried hiring a secretary, but I really didn't have enough work or money to pay a full-time employee. At last I gave up my dream of self-employment and took a job working for someone else.
A few years later, I met a man who was selling franchises for a maintenance company. They took care of providing leads, a secretary to set appointments, collect invoices and make follow-up phone calls, left me free to do what I do best, work. This national company sold home owner warranties to real estate owners. For a monthly fee they guaranteed repair or replacement of any broken appliances or property systems at a drastically reduced cost to their warranty owners. I soon learned that most of their customers were actually landlords buying warranties for their rental properties.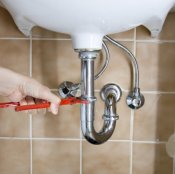 Due to a series of bad business decisions on the part of the warranty company, they went out of business a short time later, but not before I had learned everything I needed to know to repeat and improve upon their business model.
Property Guardian is a maintenance and property management company without the middleman. We provide everything from tenant background checks and rent collections to indoor and outdoor repair and preventative maintenance. If you are a homeowner or a landlord we can make your life easier.
Call us today.
Frequently Asked Questions
Frequently Asked Questions
What is the difference between a Warranty and a Maintenance Plan?
We get asked this question a lot. By using this multiple staged example we have had the best success at helping clients understand the difference.

Lets say you purchase a brand new vehicle straight off the lot with a 6 year 60,000 mile warranty. You drive your car 600 miles for a week and the engine stops running. It is still under warranty, so you take it back to the dealership and explain that you would like your vehicle fixed or replaced because the engine will no longer run. The technician confirms that the engine is not running and runs a diagnostic test on it. The diagnostic test reveals that the reason that the engine is no longer running is that there is no fuel in the vehicle. It is then explained that the warranty does not cover the responsibility to keep it fueled. Cost: $50 to fill the fuel tank, $60 diagnostic fee, $150 towing fee to the dealership and a little humiliation.

3 years, 30,000 miles later the engine stops running again. You check the fuel tank, it's all good. So you have it towed back into the dealership. The technician confirms again that the engine is not running and again runs a diagnostic test. This time the test reveals the fuel pump has failed because of a manufacturer defect. JACKPOT! It is covered under the warranty. Cost: 1 1/2 days without your vehicle, a minor inconvienience.

5 years 50,000 miles down the road, your car engine stops running again. Again the first thing you check is to make sure there is fuel. Yep, plenty of fuel, in fact a full tank. You have it hauled back into the dealership because it is still under the warranty time frame and mileage. Again the technician confirms that the engine is not running and brings it into the shop to run another diagnostic test. This diagnostic test reveals that the engine is completely seized up. The reason the engine is completely seized up is that the oil has not been changed in 5 years or in 50,000 miles. Manufacturer recommendations are the oil to be changed every 3,000 miles or every 6 months. The warranty does not cover damage that is caused due to negligence, malicious intent or any other influence caused by the vehicle owner, driver or passenger. Cost: $60 diagnostic fee, $150 towing fee to the dealership, $2,500 to replace the engine and a little more humiliation.

Many property owners fall into this same misunderstanding of the purpose of a "home warranty" and what it actually does. In straight forward, common sense terms, a home warranty will repair or replace any part or appliance that has failed under "normal wear and tear" conditions as long as the item has been properly maintained by manufacturer recommendations. A home, or any property for that matter, is no different from a car, whether new or used. It has regular maintenance needs to keep it functioning properly. Yes, issues arrise that are normal wear and tear issues. These electrical, plumbing, mechanical, etc. issues will be properly diagnosed, and as long as the items have been properly maintained under manufacturer recommendations they will be repaired or replaced. Any other questions about the warranty will be referenced in the "exclusions and details" section of the warranty contract. If there are non-covered items, code upgrades or maintenance that need to be addressed, the property owner is given an up front price to be authorized before any work is performed and also receives a 10% Discount as well as applying the diagnostic service fee as a credit to the project.

A Maintenance Plan is simple. "You have a problem. You notify us. We come and fix it." Wtih the attached discount and a credit of the diagnostic service fee. Whether we collect the diagnostic service fee from the tenant or the property owner depends on which maintenance plan you have chosen.

A Preventative Maintenance Plan inspects and perfoms minor adjustments to certain systems or appliances to prolong their life. The system or appliance will hopefully run and function much better and last much longer, therefore not needing to be replaced any time soon.


Are there any other fees not shown?
Yes. The other fees that are not shown are a one time set up fee of $25 for each property, (We are always running specials and volume discounts for multiple properties to be set up.), any legal fees if an attorney is needed in an eviction process, any lawn maintenance or yard up keep. There is also a lease origination and renewal fee of $65.00.



Can I have different Maintenance Plans for different properties?
Yes. Each property is set up indiviually, so that its needs can be customized to the type of property it is. For example, a single family home may have different requirements for types of tenants and yard maintenance compared to a condo or apartment complex.



Do I have to pay a management fee if the property is sitting empty?
No. No tenants, No fees. The key to advertising is consistancy. Everyone knows that it is one of the necessary evils to being noticed, but has a hard time justifying the absorbant costs for a one shot exposure. We understand this concept. The system that we have come up with is to pool small amounts of money from a larger volume of clients, ($1.00 from 100 people instead $100 form one person) to advertise more effectively. We then use our own formed database from contacts we receive daily from potential tenants looking for places to rent, matching the proper tenant to your property. No tenants, No fees also incentivizes us to constantly keep better track of your property and get it occupied as quickly as possible. If you aren't making money, neither are we. We like being a profitable company!



Do you offer landscape/ lawn care maintenance?
Yes. Unfortunately, there are too many variables in this area of maintenance to have a set monthly price. Each individual property will be given its own asesment and estimate in writing to be agreed upon before any maintenance is performed. If you prefer an individual per occurance price for a specific project, such as prunning trees, planting shrubs, installing water falls or ponds or any other project big or small, we give up front pricing and will begin immediately upon approval of the project. However, we have networked with one of the largest ground maintenance companies in the state and have worked out a discounted price because of the volume we refer to them. They are a totally seperate contract and their terms and conditions do not apply to Property Guardian. We can add their billing into our invoicing to you. Don't forget! If you have a monthly maintenance plan that you will also receive a discount.



Is maintenance all you do?
No. We are licensed and insured general contractors with a commercial contractors license. We have done everything from digging the hole for a foundation of a home to putting in elevators in a multilevel high rise building. Adding a deck and finishing basements are right up our alley. We hope you noticed some of our remodel projects in our slide show on our home page. No project is too small, odds and ends, and no project is to big. We have chosen to take our customer service mindset and put it to use. I once heard a coach say "always play to your strengths."


What is the legal process of evicting a tenant?
It takes 30-45 days from the day of filing for the eviction process to be completed. We always check with the landlord to verify that they wish to move ahead with this process in their own due time. We very rarely have to go through this entire process. In our experience usually a legal letter from our attorney (fees not included) delivered with a 30 day pay or vacate notice is all it takes. We try to keep the cost down to the landlord by having that certain understanding relationship with the tenant to communicate in a professional, helpful way to encourage the process without the tenant exhorbing any more additional legal fees. Usually they are pretty understanding why we have to put them through this process. As if they don't know already.



Do you meet with the tenants to resign a new lease contract?
Yes. There is a fee depending on the type of plan you have chosen. It also allows us to visually inspect the property at least once a year. Noting the projects and services that need to be maintained. Communication is a key to any successful situation.



What about the damage that is caused by the tenants (yet we are the ones who screened them)?
We do screen them to your expectations. Those who we put through the fine tooth comb plan have their employment verified by their check stubs, their credit checked by the three major credit companies, their background check through a national registry according to the information on their drivers license and their personal referrences called by one of our friendly office staff. Nowhere is there, that we know of, a way to check their psychological status. Whether they are bipolar, schizophrenic or just plain ol have anger managment issues. We can not be held responsible for the decisions they make by performing damage to your property. However, we do reserve the right to legally ask them to vacate the property within a certain time frame to mitigate any other damage to your property.